Roof Repair Gainesville, FL

Stay Protected By Keeping Your

Roof In Good Condition
No matter what material you've chosen for your residential roof and commercial roof, keeping them in perfect shape should always be your priority. Your roof is your primary source of protection, and it's your responsibility to make sure that there are no underlying issues.
Roof repair will help extend the lifespan of your roof, and your investment will last longer than expected. With unpredictable storms and disasters, a well-engineered, top-notch roofing system is essential. Not only will it protect you from outside elements, but you'll be able to save money on expensive roof repairs or roof replacement.
If you want to make sure that your roof and siding are in excellent condition, we're here to help you! We'll check your roof for underlying defects, damages, and we'll provide the appropriate solution to your roofing problem.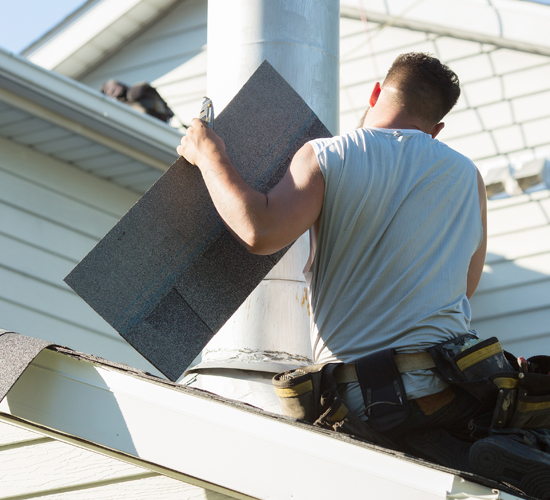 Why Roof Repair

Is Crucial
Professional roofers are knowledgeable and well-experienced in determining roof damages and providing the appropriate repairs. You must keep your roof free of damages that can eventually lead to worse conditions like water leaks, stains, and discoloration in your attic or ceiling. Keeping your family and employees protected means having a stable roof over your head.
Signs You'll Need A

Roof Repair Service
Granules in the gutter
Sagging roof decks
A sudden spike in your energy bills
Broken shingles
Missing tiles
Some roof damages are easy to find, but hidden damages require you to have a closer look at your roof. You must climb up the ladder and get to your roof to do this. Roofing is a difficult task, so you may find it easier to hire the experts to do it for you.
Choosing To Hire

Roofing Professionals
You might consider processing the repairs yourself, but roofing is a dangerous job, and it's better to leave the repairs to the experts. As a professional roofing contractor in Gainesville, Florida, we have the experience, training, and skills to perform different roof repair services.
When it comes to quality work, only skilled and experienced roofing contractors will be able to provide you superior roofing workmanship. You may choose to perform a Do-it-Yourself roof repair, but it may not be as durable when compared to the work of a professional.
Attempting to fix a roof without the proper experience may lead to more roofing problems. You might end up spending more money rather than saving money.
Roofing is a dangerous task, and if you're inexperienced, you might end up hurting yourself. Professional roofing contractors are experienced and very familiar with walking on different types of roofs. Roofers also carry Workers' Compensation and general liability insurance for your protection.
Not to mention, they have the right tools and equipment to perform complicated tasks, especially for a storm damage repair situation. Also, professional roofers are very familiar with the best materials to use on your roof repair project or any roofing project you may need.
On the other hand, local roofing contractors are very familiar with the weather and climate and they will be able to recommend the best roofing material for your home and business.
Whether you have a residential or commercial property, our expert roofers will guide you and help you through the process of a successful roof repair project. We'll ensure that your roof is tough and durable after the repairs and no underlying issues will be left behind.
As professional roofers, we work fast without compromising quality workmanship. We use the latest tools, materials, and equipment to ensure a long-lasting roof. When you work with us, not only will you have a durable roof, but you'll have an amazing roofing experience with us! Call us today for a free quote!